Andrew Wilkie at the Naval History Museum in Venice, Italy with a Viribus Unitis class bow anchor (8200 kg) in 2008. A very proud moment for Andrew as he touches part of a ship he spent many years building in 3D.
(It is noted that the nameplates of the two anchors at the museum entrance should be swapped. One nameplate is for Tegetthoff and the other for Viribus Unitis.
The fluke of the Viribus Unitis anchor has grooves in the arm and the anchor in this picture does not)
Andrew William Wilkie
Abbotsford, British Columbia, Canada
Andrew Wilkie's passion for ships began at a very early age of 5 years old when he first saw the motion picture 'Poseidon Adventure' by Irwin Allen (The master of disaster). This is when the flame and excitement ignited, soon transitioning to the love of RMS Titanic and her tragic story. This was long before Titanic became the icon it is today. Having a love for artwork, Andrew drew many pictures of Titanic when he started Elementary school. It was a few years later that he found interest in naval warships, with specific interest in the British and Italian navies. Sharing this interest with a few friends, Andrew studied Ocean Liners and Battleships intently till his teen years at which time his interests changed.
Andrew never forgot his childhood love affair with ships however, it wasn't until 2003 that he decided he needed a hobby. He wanted a hobby that would encapsulate his love for ships and for drawing. It was at that time he decided to create a 3D computerized model of a battleship, but not just any battleship. It had to be a battleship no one had ever created in 3D before. Remembering a not so well-known battleship from his youth, the WWI Austro-Hungarian battleship SMS Viribus Unitis, seemed like the perfect candidate. After some research he was able to obtain plans of the ship from Erwin Sieche (Naval Historian) in Vienna, Austria a friend of Friedrich Prasky (Master Model Builder) who drew the plans. Andrew would spend the next three years creating the 3D model, with many late nights that resulted in the model you see on this website.
Andrew wanted to share what he has learned over many decades, with others who share similar passions for ships, in a format of this website which you see here. Andrew lives in Abbotsford, British Columbia, Canada and continues to research ships through an ever-increasing library of naval and passenger liner books. He can be reached via email at
drew@zednotzee.ca.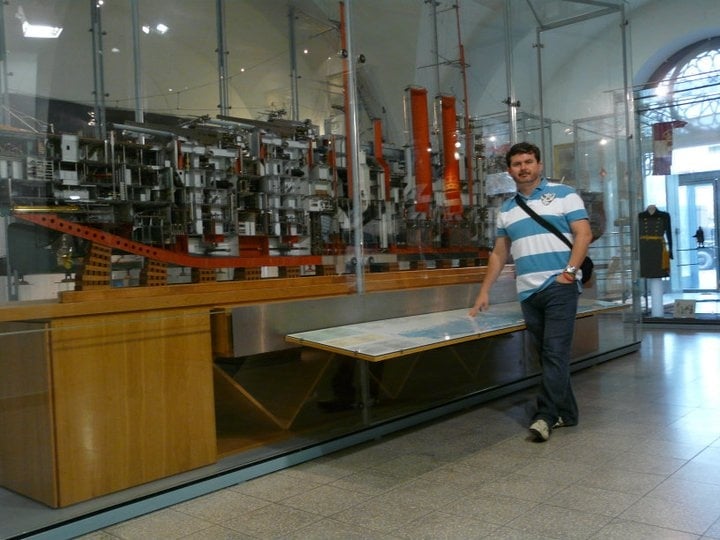 Heeresgeschichtliches Museum (Museum of Military History – Vienna, Austria)
Andrew Wilkie stands beside the 1:25 scale model of the S.M.S. Viribus Unitis (March 11, 2010)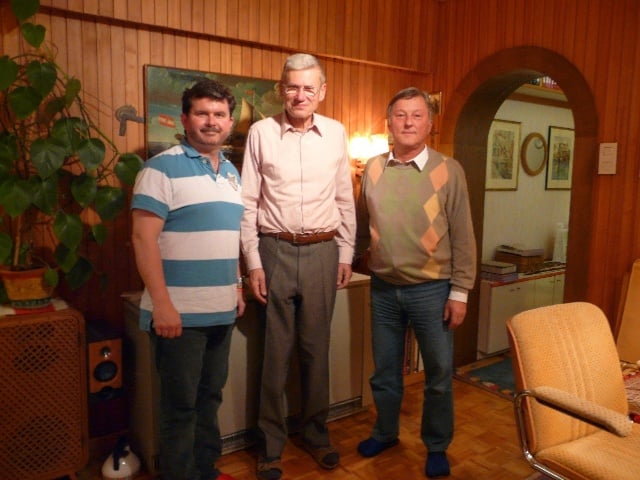 Left to Right: Andrew Wilkie, Friedrich Prasky, and Erwin Sieche (March 11, 2010, Vienna, Austria)